The Girl Who Screamed, "I NEVER WANT TO PLAY PIANO AGAIN!"
Saturday, September 4, 2021 by Ris Rumble | Newsletter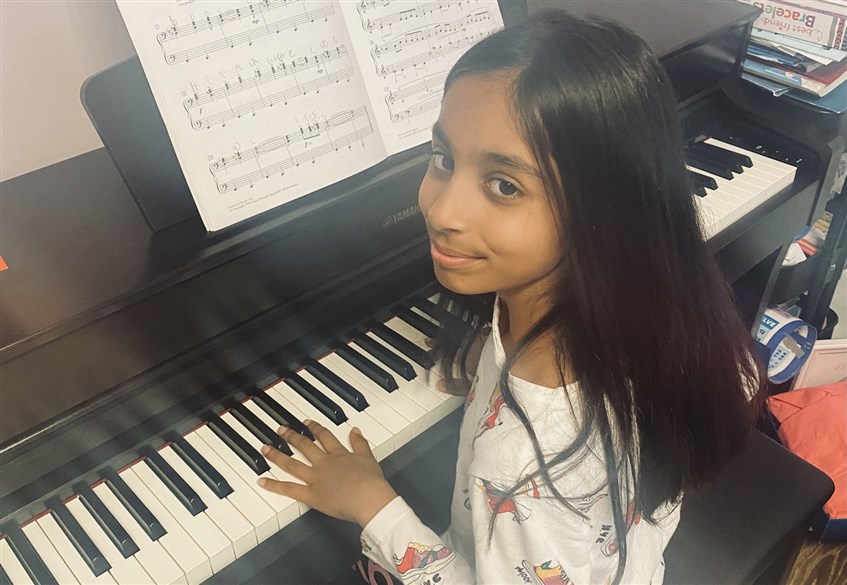 The Girl Who Screamed,
"I NEVER WANT TO. PLAY PIANO AGAIN!"
The date is October 15, 1992. A nine-year-old girl is practicing piano after school on a Thursday afternoon. The sun is shining, and it's a beautiful day. All she wants to do is go join her friends who are playing a game of Sardines outside.
She is struggling to play a piece assigned by her teacher. And she is clearly very frustrated over the fact that her insurmountable mistakes are taking time away from joining her friends.
During her frustrations and desire to be somewhere else she grabs the corner of her piano book and whips it across the room in one smooth aggressive motion. This sudden movement rips the book in half, hitting the wall behind her and causing the book to fall to the ground while a page dangles dangerously out of its seam. She screams, 'I NEVER WANT TO PLAY PIANO AGAIN!!"
I must introduce you to this young nine-year-old girl who lost her temper and destroyed one of her books in the process. Her name is Ris!
It's unimaginable to me now as a 39-year-old that I damaged one of my books this way let alone uttering such words!
So why am I telling you this story? I know that a lot of you have had (or your child has) these moments of frustration as you practice. "Is this really worth it?", "I'm paying for lessons so why is this so hard?".
I realize that my perspective may be controversial with some of you, but before passing judgement I encourage you to look at my achievements and what music has truly brought to my life.
In 1997, I won first prize at my first song writing competition as the youngest songwriter submission for the ORMTA Music Writing Competition. I played keys for my Church youth group during my teen years and through that experience made a surplus of friendships. In 2008, I toured with my own band around Toronto and the GTA performing my own original songs. In 2009, graduated with a BFA in music from York University. I have written over 100 songs, professionally toured all of Ontario, and for the past 9.5 years I conducted a choir of 100+ students. I have taught multiple music classes at a variety of schools and started teaching private lessons professionally in my mid 20s out of my home. This year, despite the pandemic, my school has grown allowing me to focus full-time on my business as the owner of Rumble Music Academy!!
Over the past 15 years working with hundreds of students, I have learned that perseverance really is worth it. I have seen students, who once didn't believe in themselves, grow and share their talent. I have seen students who have struggled with technique work hard and overcome their challenges. I have worked with students who have wanted to give up (like I once did) and are now incredible musicians themselves! I have seen students walk into my studio, very unsure of themselves, grow a strong self-esteem and be great at what they do. I am proud of all of these students and so very thankful for the multitude of personalities, experiences and relationships that have formed from this journey.
It was my own teacher and my mother who encouraged me when I was ready to give up. What if my mom hadn't encouraged me to stick it out? What if my teacher had given up on me? I would not be where I am today without them. Instead of quitting, I tried something new. I began playing fun songs from Disney, popular songs we hear on the radio and within six months, I requested to continue my classical studies. I never looked back after that moment.
I know that some of your children (or maybe yourself) have felt discouraged with their own practicing. So, I want to encourage you; encouraging your child and cheering on their improvements and determination, is the best thing you can do. Recognizing what they're doing and achieving is hard is a good thing because it is! What your child (or you) is accomplishing is something that brings life value. I truly believe that music is more than technique; it builds long life values of discipline, perseverance, focus, increased cognitive thinking, self-esteem, and opens doors for new relationships...music itself is truly unique and the list is endless (which may be another newsletter of its own!).
"Music improves cognitive and non-cognitive skills more than TWICE as much as sports, theatre, or dance."
German Socio-Economic Panel 2013
Student of the Month!
Pictured above is my student Mira and she is 9 years old. This summer, Mira wrote her very first song, and she is very enthusiastic about singing and playing the piano.
1. What instruments do you play? Piano and Voice
2. How long have you taken lessons? 2 years
3. Who is your favourite musical artists? Selena Gomez
4. What are your other hobbies, besides music? I like soccer
5. Favourite food? Mexican food (like tacos!)
6. What is the coolest thing you've learned in your lessons in the past three months? Writing my own song!
The Academy would like to honour Mira for all her enthusiasm and practice she puts in between lessons!
Every month the Academy will have a "Student of the Month". Would you like to be the next student of the month!? You can! Refer a friend, or tell me you're performing, or doing something unique with your talents and I would love to make you the next student of the month!
My First Blue Jays Game 2021!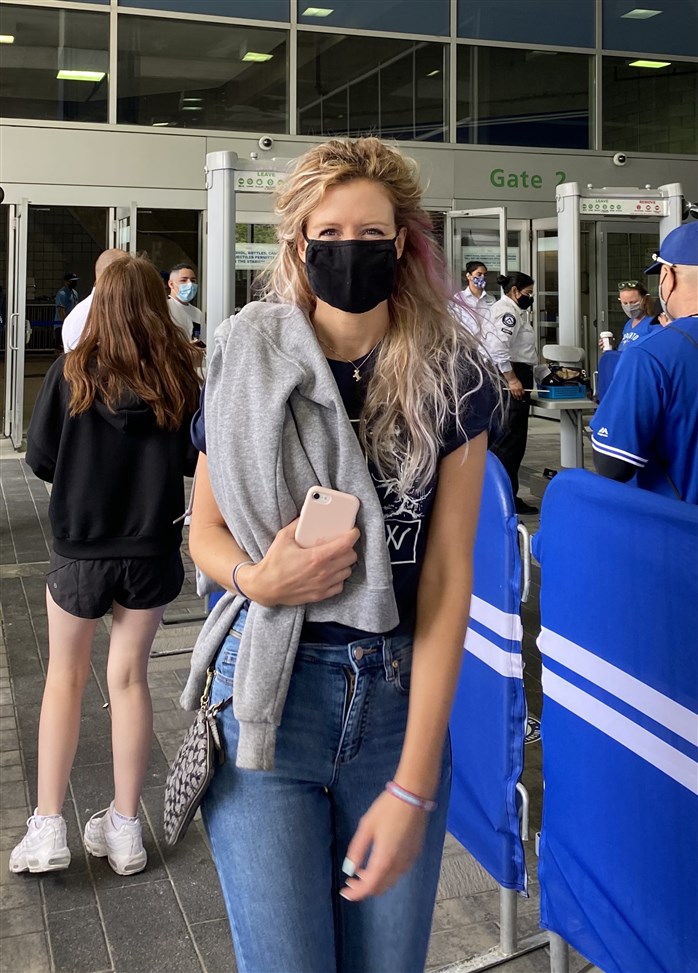 This summer I got to enjoy my very first Blue Jays game! Turns out, I love baseball! I even got to take home one of the baseballs a friend gave me as a memorable token. I not only witnessed two home runs but accidentally recorded one in the process! It was very thrilling. You may have seen it on my stories on Instagram (@rumblemusicacademy). I must admit, the music was my favourite part! I loved hearing people chant along, clapping and even a few energetic souls were dancing.




PHOTO CONTEST!!!!
RMA students share a picture of your online lesson from home and…
WIN A PRIZE!!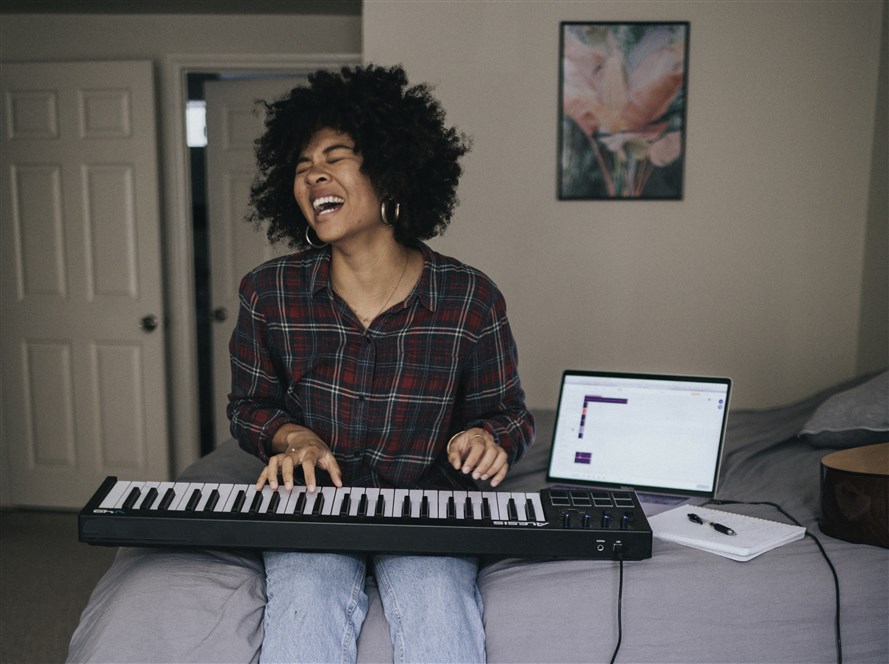 All you have to do is get someone to take a picture of YOU while singing or playing your instrument.
What I will be looking for:
A HAPPY and LAUGHING picture (see the example provided above)
Your instrument must be in the picture (piano, guitar, ukulele or showing you're singing, etc.)
If you have a sibling who takes lessons, you may take a picture together!
Natural light is best!
Be mindful of your background
Submit your picture by October 1st, 2021.
The WINNER will get their picture on the homepage of www.rumblemusic.ca and a $25 GIFT CARD for Amazon!!
♫ BACK TO SCHOOL MUSIC LESSON ♫
SPECIAL!
Rumble Music Academy is ready to help you ROCK it for back to school! Refer a friend for music lessons and if they sign up you will
both
get a FREE $50 Back-To-School Supplies Bag!
If you have a friend who might like to take lessons, you can refer them to the Academy and if they signup for lessons you both will receive a back-to-school bag!
It's very easy to refer someone. Just visit: www.rumblemusic.ca/referafriend
Type in your name, their name and their email address and we'll take care of the rest!
There's no maximum to the number of free lessons that you can receive!
OFFER EXPIRES 9/10/2021
Owl
Wednesday, July 25, 2018 by Ris Rumble | MusicArt
I teach two sisters together in a group session and this week they brought me a surprise gift! They HANDMADE this beautiful sewn owl which we named Lavendar! (Because she smells like lavender due to some natural essential oil the girls added as a sweet relaxing touch!).
I was so touched by this surprise gift I had to share with everyone. This is one of the joys of teaching and so encouraging when students show how much they enjoy their lessons and my presence as their teacher!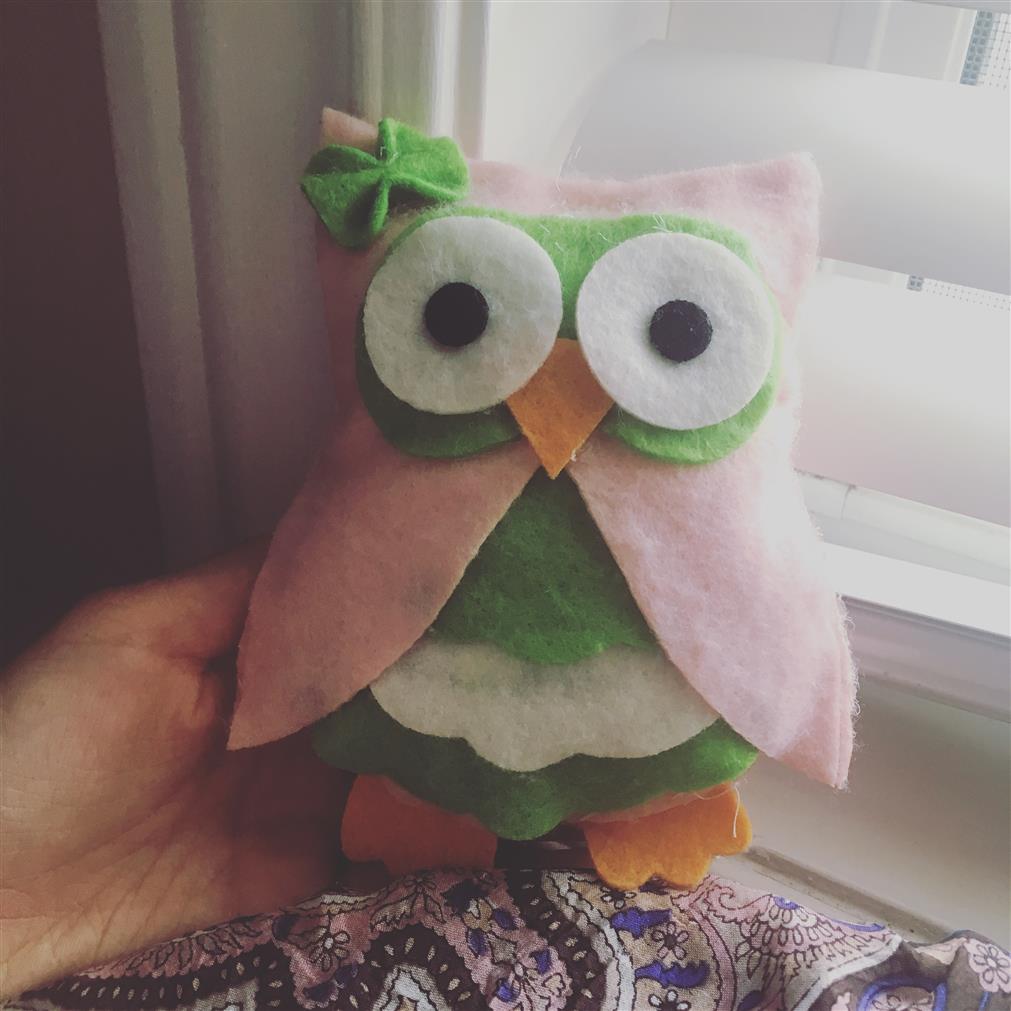 Lavender is currently sitting in my music studio if you'd like to come see her. She smells amazing!