Hi Ukulele Students!
There is now a PDF link under each title for each song. If you have lost your paper you can print it off. Click the pdf and it will open in a new window.
Have fun practicing with the play along videos!!
Ms. Ris
One Call Away by Charlie Puth
Count On Me by Bruno Mars
I'M YOURS by Jason Mraz
RIPTIDE by Vance Joy
LOST BOY by Ruth B.
DREYDL SONG
On your ukulele you now you have stickers (coloured dots!!). The RED DOT is for your C CHORD. Place your 3rd finger (aka your "ring" finger) on this dot.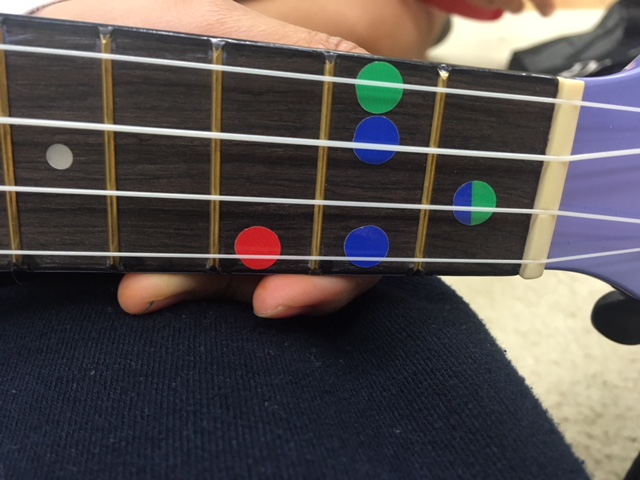 This is what the C CHORD looks like when you have your finger on the correct dot. Make sure you put enough pressure on the string for a good sound (don't touch any other strings!). Your thumb is behind helping you squeeze enough pressure to do so. Enjoy your practice on your first chord!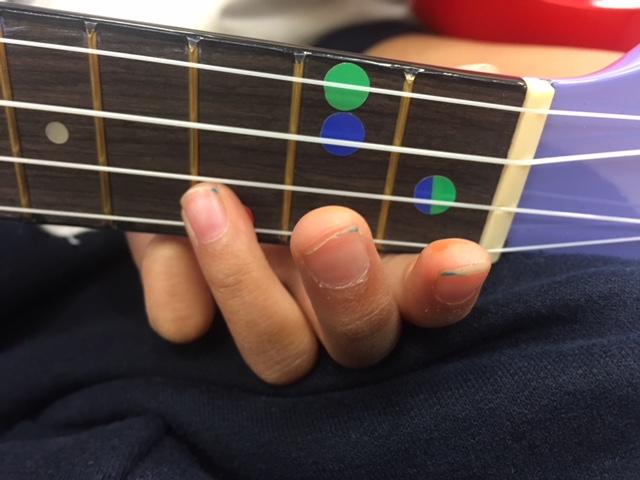 Here is your NEW CHORD of the week!! The F CHORD (GREEN stickers!!). Place your first finger on the green/blue sticker and your second finger on the green sticker. Check out the picture below.
PRACTICE CHALLENGE: Practice playing from C and F 20 times three times this week! If you're really good try doing it with your eyes closed!!